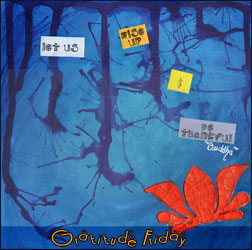 Gratitude Friday is a weekly ritual I started in order to focus on all the small and big positive things that happened during my week. I invite you to join me, you'll see how much being thankful can change your life. If you want to know more about it, read my introduction post.
Here in Vancouver we are still Friday, so I am not that late for publishing my Gratitude Frtiday blogpost !
I admit that this post was this close from not being written. But talking with my dear friend Anu, I took the time to sit and write this now.
If you did write a Gratitude Friday blogpost, please, share the link here. I love seeing the circle forming every week, even if it is one or two persons only.
But before going there, I must confess you something. It's been two or three times since the beginning of the year that i just do not feel the pleasure in writing my weekly Gratitude Friday articles. I don't know where it comes from, or why. Maybe I just go too far in personal details in these specific posts ?
Don't worry, I will not give up on this. This ritual is way too important to me to be put aside. But the answer may be in writing shorter.
This week, I am grateful for:
The book "The Replacement" Lindsay kindly sent to me, for free. Because she had two copies in hands.
I received three things in the boxmail: a wonderful card handmade by my friend Aurore, the Girls received cards too, and my friend Paola sent Grenouille a book about Origami !
I received my first custom order for a journal ! If my client agrees, i'll share pics with you.
The appointment with our bank councellor went well. Slow but steady is our mojo, praying that the Universe will send us what we need.
If you wrote your Gratitude Friday on your blog, don't forget to enter your NAME and URL below so I'm notified and can come to read you (you can also join by commenting this post):
[linkme]