Yesterday was my daughter 6th birthday. We had an amazing day all together (my husband worked but came home earlier than usual)… I did a bit too much and pay the price today. Can barely walk and I am exhausted. But it was worth it as she said to us that she loved her life so much it was bringing tears in her eyes…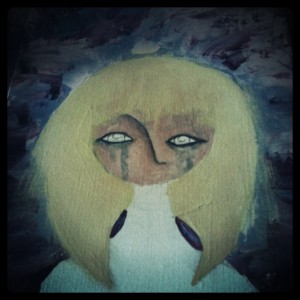 I should be working, the painting I started this week as to be done again (the face anyway. see the pic on the right) and Friday is almost there. I gessoed over the face and hair and will be working on it tommorow. I have not done the two paintings I planned but I am okay with it. I learn to just go one day at a time.
So instead, I do a bit of art journaling here and there… I started my new (5th) Art Journal. I chose to finally use this Strathmore Visual Journal everyone is praising, the bigger one. And I must say this is a good one. Not used to journal on a spiral bound anymore but I appreciate not having to work on spread, I shoud it would bother me; we will see.
Here is the first page of the journal. I wanted something meaningful for me: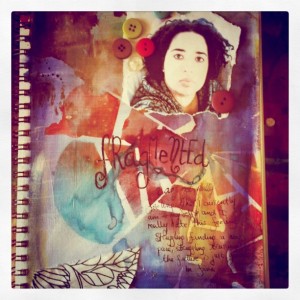 I started by painting the background with acrylic paint. Then I used Julie Fei-Fan Balzer's stencil (with The Crafter's Workshop) with Lindy Stamp Gang's Starburst sprays. It bleeded a bit underneath. but that's ok.
Then, I chose a selfportrait photo I thought was reflecting the feeling I wanted for the page, printed it and torn it instead of cutting it.
I added buttons around, and burnt myself quite hard with my hot glue gun. Twice. And a bit of fabric. Don't know why, it was standing there so I put it on the page.
And to finish it, I wrote with India ink, black and indigo, with my nib pen (just loving it).
Pretty easy, but I really love this first page.
You can have a glimpse of the second page on this picture. Autumn tones. Sketching in front of Arthur and the Invisibles (which we all enjoyed). Trying new faces, and to draw something that looks like a body. I then wrote some thoughts in her hair, still with my nib pen and some India ink.
I didn't really care about the background as you can see. Just rolled some paint with my brayer, and I don't know why the colors did not really blend together as they usually do (?).
I am still kind of struggling with my faces. Envying people who seem to draw so easily, knowing this is not a good thing to do. At all. But I feel like mine does not look….. professional. Not worth money from people. Yay…. I know.
So I am experimenting. I am definately not a realistic artist, not able to draw a proper face. So I have to find MY thing even more, I have the base I don't want to change. My style is now kind settle and I love what I create and the messages that go through me ! Which is important, in my opinion.
I love seeing others' watercolor journal pages. Some are just AMAZING !!! I don't know this medium well (Alisa Burke's watercolor focused online class is on my list to take when possible). So I am just fooling around with it. See:
It's not fine art 😉 But I had fun and I need fun right now.
This is where I am at right now… Will be sharing today's page when I am done with it (playing with paint, stencils, heavy gel medium and spray ink).