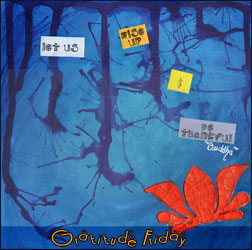 Gratitude Friday is a weekly ritual I started in order to focus on all the small and big positive things that happened during my week. I invite you to join me, you'll see how much being thankful can change your life. If you want to know more about it, read my introduction post.
Hello !
My life is currently under a huge adjustment, and it is not an easy one. But I know it will get easier eventually, and that I have the power not to stay this angry woman I am sometimes. I can still be the positive thinking and fun lady I was before.
This week, I am grateful for:
The Facebook group created by Samantha Kira. These women are very supportive and help me a lot in this above-mentionned adjustment.
The Universe is listening to us and is answering our prayers. Big Time. Now, we have to show we can and will continue our efforts.
I received my orders from Lindy Stamp Gang and Bluemoon Scrapbooking, and we went to Clipper Street to pick up my order of The Crafter's Workshop's templates (Julie Fei-Fan Balzer's line is AMAZING). You know how happy and over the moon I am when it comes to play with new art supply.
I am physically in pain, exhausted doing nothing, cooking and other simple stuff is now a difficult task, but I do know that we will find solutions to make it easier.
I walked 2.52km (± 1.56 miles) in 26mn and despite the pain during and after it, it makes me proud. I have to do it again.
Lush's «Blue skie and puffy clouds» bath thingy makes me happy. I love patchouli and frankincense's smell. I am happy I indulged myself with one (that will do me like 4-5 baths !)
I haven't really work this week and it makes me feel guilty because I should push and just do it. I am grateful to work from home and to have the possibility to manage my time as I want.
I feel the need to reconnect with the Witch in me. And I notice that my daughters seem to be interested to learn more and more about it. I guess it is now time to pass what I know to them and to dig deeper myself.
I am asking to The Universe to put on my way my Soul Brothers and Sisters. I feel like this big loneliness hole in me is linked to this. This I don't know what is missing was not what I though… I need to connect with them, to find them. Or them to find me. I am ready now.
The medical comission finally met for mom. I don't know if what Grenouille and I did helped, or not, but it did happen. Now, we are praying that her treatment will go perfectly and start asap and that she will be on her plane to Vancouver on October 18th (if you want to send your good vibes, it is more than welcome).
My Art Journal is my creative best friend. And I have to say that the Strathmore Visual Journal is a very good one.
I FINALLY signed up for my Reiki training. If everything goes well, I should be a Practical Reiki Master this October.
My dear friend Anu launched her coaching website. She is AMAZING, no kidding. I am happy we met thanks to Circe's Circle and found each other. Go celebrate with her, right there.
Don't be shy to share your link below if you wrote a Gratitude Friday blogpost, or to simply comment.
If you wrote your Gratitude Friday on your blog, don't forget to enter your NAME and URL below so I'm notified and can come to read you (you can also join by commenting this post):
[linkme]