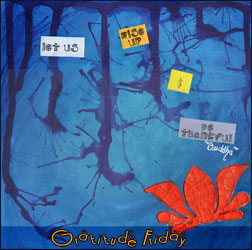 Gratitude Friday is a weekly ritual I started in order to focus on all the small and big positive things that happened during my week. I invite you to join me, you'll see how much being thankful can change your life. If you want to know more about it, read my introduction post.
Hello !
I have to be honest with you: I started several blogpost to share with you throughout the week but never published them. Affraid of the image it would reflect and to be too personal on this space.
As Friday arrived, I had no idea what to thank for. Which is pretty unusual to me as I always find something.
I am still struggling with adjustement. Not only to this new life of being hit by fibromyalgia, but adjusting to our new schools routine as the girls are not in the same place anymore, not the same schedules blablabla. And I have to admit I am not that good with change in general. It seems like I am forgetting who I am, and I hate this sticky feeling.
But, here is what I am grateful for this week:
The schoolbus system, Grenouille takes it every morning at the corner of our street and is dropped off nearly at the same spot. I just have to be there to pick her up so she does not come home alone.
I finally started my Practical Reiki training and it is amazing ! It seems like I am the only beginner but I don't really care that much about that. I will receive my 1st attunement next week, exciteeeeed. I know this is the perfect timing for me and for the ones I love and care about.
My godfather sent me a message for my birthday. Even if it was a week early, it made me happy.
I am about to eat sushi and japonese food. Strangely, this is what feels like comfort food to me.
I love this selfportrait I took and played with actions in Photoshop (wishing i was reacher and could spent $150 to buy actions on RadLab).
My daughters and husband are planning surprises for my birthday behind my back. It makes me feel loved.
I love this Mail Art project and enjoy creating these littles pieces, hoping their recipient will like them.
I love the honest conversations i have on a nearly daily basis with my friend A.
I found the book I thought was forever lost, from the previous giveaway i had over here.
I love receiving comments or messages about readers loving what happens when they do their Gratitude Friday.
If you wrote your Gratitude Friday on your blog, don't forget to enter your NAME and URL below so I'm notified and can come to read you (you can also join by commenting this post):
[linkme]