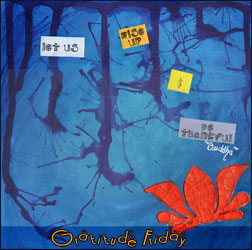 Gratitude Friday is a weekly ritual I started in order to focus on all the small and big positive things that happened during my week. I invite you to join me, you'll see how much being thankful can change your life. If you want to know more about it, read my introduction post.
Hello !
Ebb and flows would be the title of the movie inspired by my life 😉 Well… I learn to go with it, as simple as that.
This week, I am thankful for:
– This week was back-to-school for both my girls. We are getting used to our new routine, to Grenouille taking the schoolbus (which she is very happy about)… I am happy this system exists in North America, the bus comes at the corner of our street and simplifies our life a lot !
– Being back to painting. I find my happy place, I needed and missed painting, creating, getting messy with my hands. I guess I cannot deny it anymore: I am an artist.
– My friend Anu, her again. She listens to me babling, whining, having epiphanies. She is the light I thought did not exist.
– My mom's strength of character.
– Energy drinks that help me to keep going, even if I hope to find something more natural.
– I finally made my mind and decided to start a monthly newsletter. I will write it only in english first and will see if the francophone community is interested in following me via a newsletter. You can sign up right there in the sidebar, it is called Inner Whispers =====>
– My perseverance to take care of myself (or at least, I am trying) without procrastinating. I am proud to still be able to look after my kids, even when exhausted like i havent sleep in weeks and in physical pain, when my world seem to be turned upside down.
– I had my first (free) chinese medicine consultation. Seems like I am too stressed, my chi does not circulate properly. Damn !
– I will begin my 4-week Practical Reiki formation next week, and it feels like I am finally going where I should. And new possibilities are already blooming.
– I am alive. And despite all the rocks, all the suffering, I am still here. Trying to do my best with what I am given.
If you wrote your Gratitude Friday on your blog, don't forget to enter your NAME and URL below so I'm notified and can come to read you (you can also join by commenting this post):
[linkme]