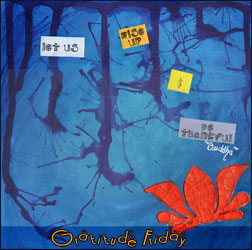 Gratitude Friday is a weekly ritual I started in order to focus on all the small and big positive things that happened during my week. I invite you to join me, you'll see how much being thankful can change your life. If you want to know more about it, read my introduction post.
Hello !
It's now 10h37, I've already written my Gratitude Friday blogpost for the french-speaking version of Inner Voices, I don't know why it is so hard to translate it (not technically difficult, but… I am doing other stuff, pushing doing this aside). Sometimes, I am just weird I guess. Too many things going on in my head maybe.
This week, I am thankful for:
Our visit at the aquarium On December 31st, despite the encounter with an hungry squirrel, it was very nice.
We had a very nice New Year's Eve. Simple, but perfect «The best New Year's Eve of my life» depending on the girls.
I had the very good surprise of this blogpost this blogpost and gift from Joyce, the winner of «Name My Girls» contest and spiritual mom of my Nixies.
My tv shows are airing again. Yaaaay (not all, but it will be, soon).
I am back to painting. One step at a time. Pushing away resistance and fear.
The girls are back to school.
Chéridoo was in vacations. It feels so good when he is home.
21 Secrets is now open for registration.
The comment from my friend Aurore in a previous blogpost.
The come back of a lost friend in my life.
The discussion with my brother (honestly this still feels weird. But OMG I have brothers and a sister !!!! They are now real and know I am here, I exist).
The Angel Attunement I received from Marsha Bennie. She is amazing, this is a wonderful experience. I am still buzzing from it. (if you want an Angel Reading with Marsha, contact me so I give you her contact info. She is amaziiiiing).
I am finally reading The Hunger Games. Ooooh so good.
What gives you butterflies right now ?
If you wrote your Gratitude Friday on your blog, don't forget to enter your NAME and URL below so I'm notified and can come to read you (you can also join by commenting this post):
[linkme]