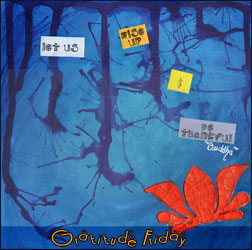 Gratitude Friday is a weekly ritual I started in order to focus on all the small and big positive things that happened during my week. I invite you to join me, you'll see how much being thankful can change your life. If you want to know more about it, read my introduction post.
Hello !
I know I did not published a Gratitude Friday in what seems like FOREVAAAAAAAAAA but I will try to get back to it from now on.
Despite the huge amount of stress I still feel today, it's important for me to thank for all the blessings I receive. Even the tiniest ones.
This week, I am thankful for:
This new home we just moved in. I can't believe how perfect it is for us, and it is OURS (well… it will be in 20-ish years, for now it's to the bank lol).
My husband, he is the bestest and I could never have dreamt of a better match for me.
I am one of the artist interviewed for Cindy Jones Lantier's project called Mixed Media May (or M3), you can read my interview just right here.
Speaking of projects, I love being part of the project 101010 (you can see daily blogposts of the others participants answers).
I've finally started to paint the walls of my future creative studio. It will be a beautiful teal. I am thankful for this opportunity to finally have my space to create and work.
Thank you to my friends. They are dear to my heart.
The good nights of sleep. I'm beginning to be okay with being exhausted, I still have good nights of sleep again and I love that.
I love finding inspiration in the most surprising places. Like a restaurant washroom wall.
Starting to take care of my health again. Exercising. Better eating. I want to be back to the Nolwenn I know I should be. And I KNOW I can do it.
If you wrote your Gratitude Friday on your blog, don't forget to enter your NAME and URL below so I'm notified and can come to read you (you can also join by commenting this post):
[linkme]