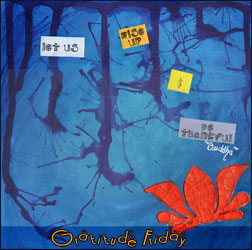 Gratitude Friday is a weekly ritual I started in order to focus on all the small and big positive things that happened during my week. I invite you to join me, you'll see how much being thankful can change your life. If you want to know more about it, read my introduction post.
Hello !
Life is a mess. And tough. The last few weeks have been the hardest of my life, but I know it will get better. We will make it easier and safer.
I wish I had a magical wand to help out my friends in need, all I can do is listen and answer with love and tenderness; even though I know it is unfortunately not enough. But I try.
Being present is still an amazing gift to the people you love.
This week, I am thankful for:
My new {Painting In Motion} video. You can watch it here and know more about it.
My mom.
Fibromyalgia for teaching me so much. Lessons are learned in pain, but still.
My oven, still learning again how to cook with gas though, lots of adjustments being made.
Fresh homemade bread. You really should check this book out, it changes our life. I have their book about pizza and now have frozen dough ready to be used.
My Creative Hollow (ie. my art studio).
I was able to sign up for Anna Dabrowska's layout class at Clipper Street. I would have loved to be part of her Mixed Media class but Life decided otherwise, I am still happy to be able to learn from her, and hopefully connect with creative local people at the same time.
Grenouille's new school. I know my girls will be happy there. Koala can't wait to go to school, she does not like that much being with me all the time lol
Chai Latte. I've found 3 Starbucks chai at Costco for the price of one. A treat I do everyday to myself.
My bro' invited me (us) to his wedding, even if he knew we could not make it because of the high price of plane tickets to France. The same with my cousin.
Being back to an healthier lifestyle, exercising and eating better. However, I am still struggling with finding the right diet for me.
I love the Studio Calico monthly kits I signed up for.
Mindy Lacefield online class comes to an end, it was amazing. I am looking to the videos regularly and the community gathered around it is very amazing. You can know register for the class at your own pace (yaaay).
I was also able to purchase a second original painting from the amazing Danielle Daniel. Can't wait to receive it. If only plane tickets were cheaper, I would fly to attend her exhibition in Québec in a few months…
When life is yucky, find a few minutes to look at it differently. What made you smile ? What makes you feel better ? Soak in these feelings of joy and blessings. It will make it easier, I promise <3
If you wrote your Gratitude Friday on your blog, don't forget to enter your NAME and URL below so I'm notified and can come to read you (you can also join by commenting this post):
[linkme]