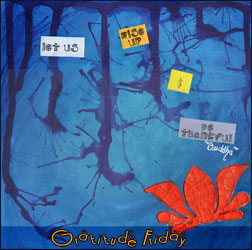 Gratitude Friday is a weekly ritual I started in order to focus on all the small and big positive things that happened during my week. I invite you to join me, you'll see how much being thankful can change your life. If you want to know more about it, read my introduction post.
Hello !
It's that time of the week, so happy it is friday ! Aren't you ?
My friend Anu told me to be thankful for the Internet this week, and oh yes I am !
And I accept today that it is totally okay to have the same things over and over in your list.
This week, I am thankful for:
My new phone. It is NOT an iPhone but a LG Optimus G. I love it ! And I will do a Gelaskin to put on it with one of my Nixie 😀
Nancy, even if we have a hard time metting despite the fact we are two blocks away from each other.
Sleeping pills.
Being able to buy presents for Koala's birthday next week.
Being more and more ok with who I am.
Reiki.
Close family.
Facetime and iMessenger on my iPad.
Making these weekly videos rocks my creative world.
Sushi !!!! (I could eat japanese meals several times a day every week).
If you wrote your Gratitude Friday on your blog, don't forget to enter your NAME and URL below so I'm notified and can come to read you (you can also join by commenting this post):
[linkme]