I have been thinking a lot lately about if I still want to make a career out of painting, or if I should just paint for my own pleasure, and sell the resulting art if someone feels called to welcome it in their home. It comes back to my latest blogpost about probably going back to school, even if it is over a 3-year full time period.
I am an intuitive person. After a decade of shutting down my Inner Voices and doing what I thought was the right things to do (meaning the things that were not bringing joy or excitement but that an adult should be doing anyway), I was fed up with how unfulfillment was inhabiting me. So it needed to change, I needed to go back to intuition guiding me. I will be honest: it was not easy. Shutting it for so long, it was not my normal anymore. But I got there by trusting I was a worthy person.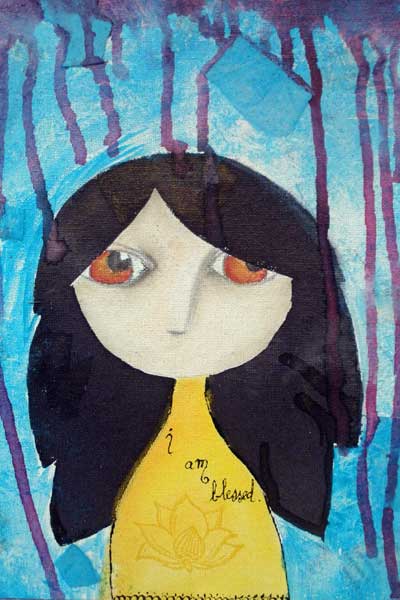 When I started my mixed media journey around 2008, I was so stressed out by messing everything up that I was planning every inch of my canvases, sketching before painting etc. 9 years later, I go with the flow. I start with a seed (it can be an intention, a word or a quote, a feeling I wish to convey) and see where it leads me. I believe that my paintings have a life of their own and that I am just the tool to bring them to life.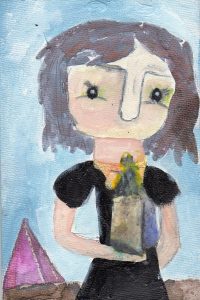 I am a Virgo, so I guess this all makes sense somehow (to me anyway). I am an intuitive planner (yes, I totally made that up). I need to know where I am going but to let it all come to me as well. Talk to me about being a living paradox…
One of the shift I want to focus on in the last months of this year is to get rid of all the "should". I can't keep up with them anymore, so it is time to say goodbyes, thank you for your service, hopefully we won't meet again too soon :p
Do you, too, live in the land of Should ? What's keeping you there ? I welcome any tip to help me out.
As a bonus for today, a video from one of my favorite singer: