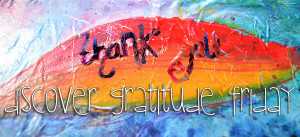 I really hope my habit will stick and that I will share my Gratitude Friday here again, weekly.
First, I want to thank all the people who took the time to comment either here or on the social media. It brings me so much joy to read your own list. Everytime I read one, I take a few minutes to send you a little gentle energy.
This week is my birthday week, which I love. Even though my body decided to go against me and to put me in full fibro flare-up. A flare up means I can't focus, I can't function, I become bitchy (even more than my usual regular self).
This week, I am thankful for:
✼ The love I receive
✼ The good teacher my 7th grader has this year and her studying hard paying off
✼ Pain meds
✼ My Sister, Mindy, and her online classes (feeling witchy anyone ?)
✼ Getting messy in my Art Cave, the freedom I have to create
✼ This piece of writing by Carrie-Anne Moss that resonates so well with my own epiphany
✼ Hot Epsom salt baths in the middle of the day
✼ Family coming from far away to spend time with us
✼ Canning food
✼ The new album from Macklemore
✼ The trust invested in me to create beautiful meaningful videos.
And you, what comes into your mind when you start the sentence "today, I am thankful for……" ?
Share in the comments and let me hold your joy with you.
A few pictures