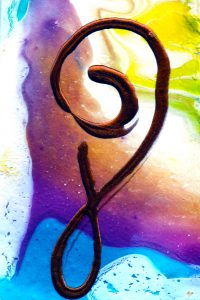 Welcome to this new Gratitude Friday ! Feel free to share with me your (partial or full) gratitude moments in the comments; that way I can hold joy for you ✿ (you know that makes me happy to make you happy).
I am aching all over my lower body as I am writing this and this is when it gets important to remind myself the most important. Yes, I walk funny and moan at every stair I have to climb (up OR down). Yes, it's been three days of pain already. BUT I have a body that overall functions. Fibromyalgia and other stuff are just details now because I want them to be. Because I choose them to be. My husband and I disagree as he thinks I am putting too much strain on my body working out every day. That 3 or 4 times a week is best. Not for me though and I know because I listen to that envelope of mine. So I am grateful for it. Every morning that I wake up breathing. No matter the level of pain, I am grateful it is still working somehow…
This week, I am grateful for:
My body getting stronger with every workout
Never giving in to the temptation of giving up
The honest love from my BFF Cocotte, and for having her trust
Being part of such a fun group of creative women representing Strumpet Stencils (Psss: head over my Instagram to discover the ones I received)
Lush bath products
Music
Learning to give less of a shit about others' opinions about me and/or my family
The real friendships my daughters are both developing this year
The care my Mom is putting towards herself and her well-being
Art journals and creativity
Something I keep on the low for now but will tell you about in a few months (hopefully)
What about you ?
What's the things we tend to take for granted that leave you full of Gratitude today ?
I would love to hold space for you when you share with me your Gratitude List in the comment.
This week's soundtrack: