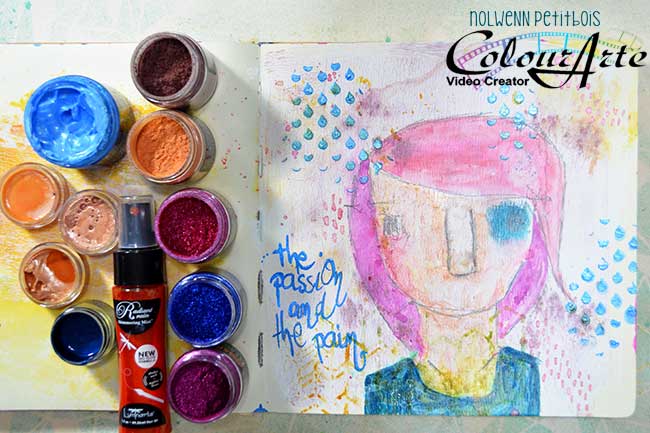 I am getting back more often into the safe place that is my art journal. This is why I decided to take you with me while I let a Nixie come to life, for this video project for ColourArte.
I have several art journals within which I work and for this video, I picked my Dylusions square one (my current go-to journal).
Art journal to me is where I unburden myself, where I experiment and just let happen whatever wants to come forward. I accepted long ago that this is my process and forcing myself to have a plan was doing no good.
I have to admit that I used a bit of every line of ColourArte products in this page. It's just because I love them so… it's what usually happens. The Primary Elements are maybe my favorite (sssshh) because I can make so many different things with these pigment powders.
I let the colors and the face that appeared guide me. It is usually hard for me to convey what is going when a Nixie is coming to the surface because words are not enough. I just see the face in my mind's eye and let it come forward. Sounds weird, probably, but this is the best way to describe the processus. I go with the flow and learned not to second guess myself too much even when things go in strange direction like what happened with her eye.
Are you an art journaler ? What's your process like ?